Lifeboat Read and Spell Scheme - Product Background and Teaching Guide
Product Background
From its inauguration in 2000, the Lifeboat Read and Spell Scheme has proved a tremendous success in a wide range of Mainstream, Special Needs, Adult Literacy and ESOL teaching.
It was developed and designed – by four experienced SEN professionals – for use with dyslexic and other children with literacy difficulties. As indicated by Professor Tim Miles, former editor of the Dyslexia Journal, though, the Lifeboat Scheme "... is suitable for teaching reading and spelling to all students, whether dyslexic or not." – and so it has proved. The Scheme is now used in around 4,000 primary and secondary schools and colleges throughout the UK and many other countries around the world; with children and adults, for working in the classroom, in groups and independent and differentiated learning situations. It is also in use in Adult Dyslexia and Sure Start Centres, YOIs and Pupil Referral Units, and with parents working at home with their own children.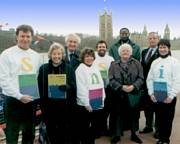 The authors, Prof Tim Miles, Beve Hornsby and others at the Lifeboat launch in 2000. (Although the Lifeboat Read and Spell Scheme is named after the authors' former ex-RNLI Lifeboat 'Gallichan', the Scheme is not connected in any way with the Royal National Lifeboat Institution itself. The registered trade mark 'Lifeboat' is owned by the RNLI and incorporated here with RNLI consent.)
Lifeboat Teaching Guide and Other Materials
The Lifeboat Teaching Guide (click here for the full 14-page pdf download) provides a general background to the construction of this Scheme. It details both the Lesson Format which, after introductory exercises covering the alphabet in Book 1, remains consistent throughout the rest of the Scheme, and the Programme Structure.
The Guide also provides two Assessment Sheets to assist teachers in identifying the most appropriate initiating point for each pupil / student, along with a Record Chart, Student Progress Chart and Certificate of Achievement.
A handy 4-page (A4) Lifeboat Introductory Leaflet is also available, highlighting the Programme Structure and key elements of the Lesson Format: very useful for informing colleagues about the basics of the Scheme without going into comprehensive details.
Many teachers have asked us for 'Inspection Copies' of the Scheme. This can be a rather costly way of making a final decision so, to assist in understanding how the Lifeboat Scheme works, we have instead made four sample Lessons available on-line. (Please note, these pdf examples are copyright. They may be printed out for information purposes, but they may not be used in the classroom or in any other teaching situation.) The sample Lessons are:
---
Copyright © 2023. All rights reserved, Robinswood Press Ltd
Website by Big Cat Digital Ltd.